A pulmonologist is a medical expert who offers compact diagnosis and treatment for your respiratory system. From short-term conditions to long-term lung concerns, your specialist ensures a wide range of clinical support. Besides medical guidance, here you receive lifestyle guidance as well.
If you've been experiencing shortness of breath, chronic cough, mild cough, chest pain, wheezing, loud snoring, or ongoing respiratory infections, reach out to a pulmonologist, commonly called a chest specialist. Early access to health supervision under Dr. Abhishek Bali - the leading doctor pulmonologist in Siliguri - helps safeguard well-being.
Top Respiratory Care In Pulmonology
Every organ in your body contributes to your wellness. However, problems concerning organs result in contradictory effects on health. And that's no exception to your respiratory tract. Talk to your specialist if you suspect you have a respiratory condition.

Regardless of age, respiratory illnesses are common ones. Common respiratory conditions in kids involve – common cold, whooping cough, influenza, sinusitis, pneumonia, asthma, sinus infection, bronchitis, strep throat, etc. Avail of the A1 respiratory health solutions in pulmonology in Siliguri.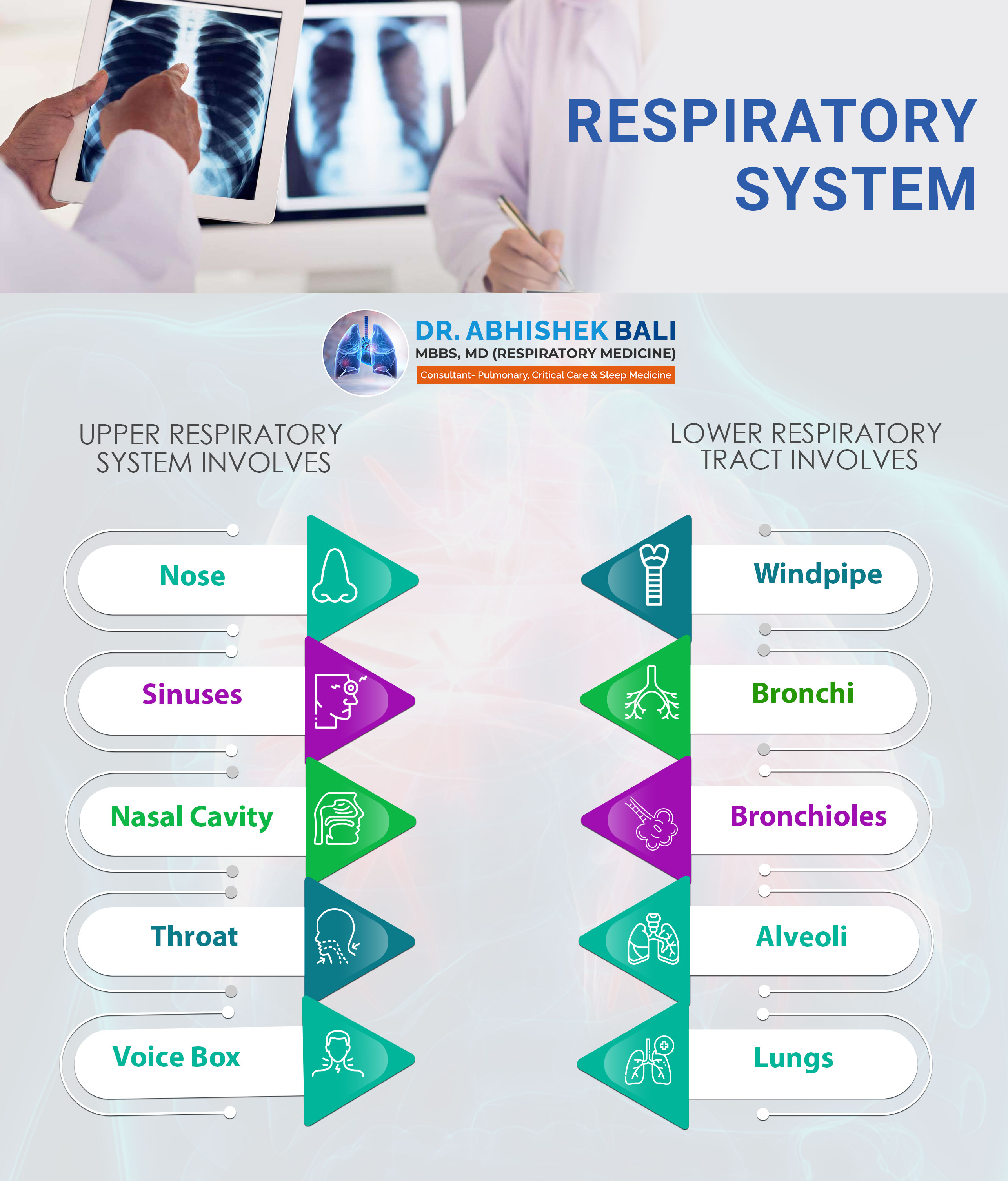 Ensure promising respiratory care for:
•

Asthma

•

Lung Infection

•

Massive hemoptysis

•

Restrictive lung disease

•

Environmental lung disease

•

Work-related lung disease

•

Smoking cessation

•

Chronic bronchitis

•

Emphysema

•

Pleural disease

•

Post-covid care
Adults and older adults can have such conditions too. Plus, they're equally likely at risk of COPD/chronic obstructive pulmonary disease, pulmonary edema, lung cancer, pulmonary fibrosis, sleep apnea, pulmonary hypertension, etc. These conditions, however, are rare in children.
Advanced Medical Care From The Best Chest Specialist
Apt diagnosis rules out the exact extension of the disease. Therefore, providing suitable treatments becomes easier, ensuring healthy healing. At times, conditions develop progressively, like COPD. That you might not identify if you have one such concern.
Modern medical apparatus improve the mode of giving treatment, hence, recovery. But know that only medical support may not help. What you require is to stick to lifestyle choices as your expert suggests. Treatments offered by the best chest specialist in Siliguri elevate your goodhealth.

Come forward and get the best-in-class health solutions from your doctor, involving:
•

24*7 Support for Respiratory Critical Care Patients

•

Airway Clearance Procedure

•

Local Anaesthetic Thoracoscopy

•

Indwelling Pigtail Catheter

•

Transbronchial Needle aspiration

•

Endobronchial Ultrasound

•

Post-Covid Evaluation
Critical care given by Dr. Abhishek Bali lessens the risks of life-threatening illnesses of the respiratory tract. CCU/critical care unit looks after 24-hour monitoring under a team of well-trained medical experts. For an absolute treatment plan, get in touch with your specialist.