Respiratory illnesses are a common health complaint worldwide. It can be an infection, tobacco chewing/smoking, breathing lung irritants like asbestos, radon, air pollutants, or secondhand smoke that lead to such issues. Prolonged exposure to these undesired substances is sure to affect your health.
Pulmonology is a medical specialty concerned with all types of respiratory issues. Not every disease concerning your respiratory system can go away under medical care, known as chronic conditions. There long-lived health monitoring by a doctor is of need. Connect with the best chest specialist in Siliguri to benefit your respiratory health.

Accessible treatments at Dr. Abhishek Bali's clinic comprise:
•

Asthma Care

•

Pneumonia Care

•

COPD Care

•

Interstitial Lung Disease Care

•

Thoracic Oncology, Allergy, Immunology

•

General Pulmonary Medicine

•

Massive Hemoptysis Care

•

Sleep Medicine

•

Smoking Cessation & NRT Clinic

•

Pleural Disease Care

•

Restrictive Lung Disease Care

•

Pulmonary Rehabilitation

•

Environmental & Occupational Lung Disease Care

•

Critical Care Medicines
Dr. Abhishek Bali is an MBBS, MD in respiratory medicines who deals with mild to severe conditions. Critical care ensured by the doctor maximizes health endurance and minimizes risks. Your expert is dedicated to letting you witness the goodness of health. He has an association with a good number of reputed hospitals. With appropriate health detection, the doctor has delivered 1000+ successful healing.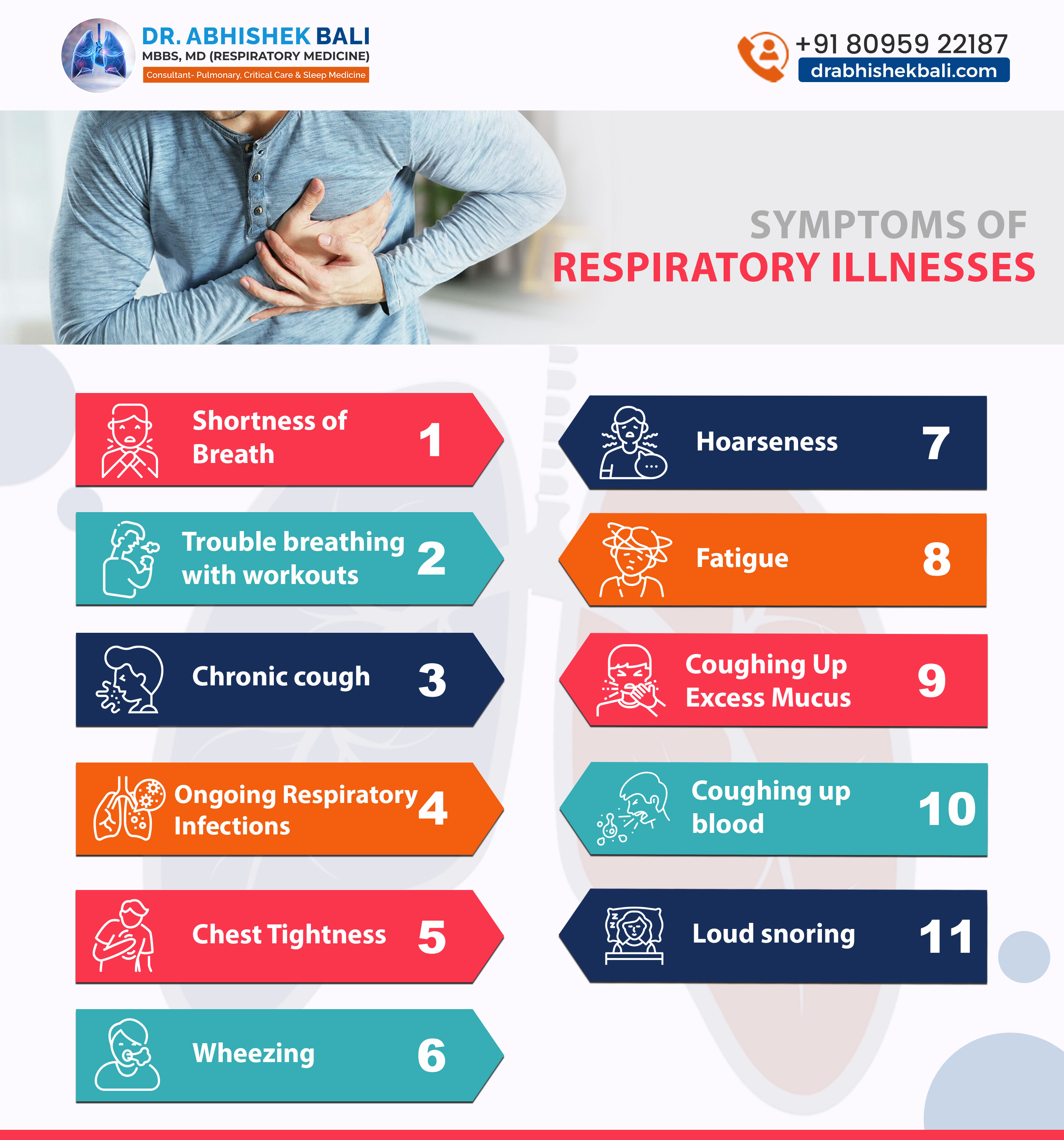 Optimum Advice From The Best Doctor Pulmonologist
To take care of your respiratory health requires a productive lifestyle. That defines the lifestyle as keeping you fit from the inside. However, some risks are not preventable, like sudden injuries. Genetic factors are also one of them. If you want to quit smoking but cannot, ask for expert guidance.
Smoking cessation is an evidence-based treatment plan involving behavioral therapy/nicotine replacement therapy (NRT), counseling, medicines, and other procedures that release the urge. The entire session is conducted under expert supervision. The leading doctor pulmonologist in Siliguri offers a comprehensive clinical approach in order to treating respiratory discomforts by all means.

Tobacco makes you more likely to go through respiratory issues. Health hazards and cigarette smoking have a significant link. Active smoking over time damages alveoli (air sacs) and airways in your lungs. The chance of trachea, lung, and bronchus cancer also increases.
Inhaling secondhand smoke (the smoke exhaled by active smokers) brings damaging effects to non-smokers. If an individual is healing, this practice also affects the process. COPD is one of the common out-turns of smoking. Occupation lung disease is another concern here, also termed work-related lung disease.
Coming in contact with - asbestos, crystalline silica, coal dust, breathing bacteria, animal droppings, fungal spores, organic dust, gases, or fumes – with time causes several lung diseases, covering symptoms like – shortness of breath, chest tightness/pain, excessive mucus production, wheezing, and persistent coughing.
In order to bring down the risk, stop smoking, try your best to avoid exposure to lung irritants, keep your home interior/surroundings clean, focus on healthy food choices, and exercise. Moreover, if you have the mentioned symptoms, it's wise to speak to a doctor on first notice.